Having owned and ridden most of the early 90s Ti frames, Hei Hei, Marin Ti, Sandviks, Dean, Litespeeds, Merlins etc built with plain gauge Ti tubing, for comparison this uses oversize custom spec 'hand machined' butted tubing which is much stiffer in the BB and other areas and completely stable on fast descents. Other Ti bikes could be scary with bad frame wobble at speed. Climbing was also sketchy with very flexy BBs under load, breaking tyre traction etc. This is still a very comfortable ride with natural Ti shock adsorption and the just the prettiest frame I have ever seen, a flawless work of art.
Specs -
Somerville made 94 Ti frame in L ( flawless )
Factory BOI ( from ex FCC team race bike )
CK nothreadset
Ringle Super Bubba hubs Araya Pro 400 rims
XTR M900 casette
XTR M900 front & rear shifters
Syncros Ti seatpost
Ringle Ti holey clamp & skewers
Ringle Peace cable hangers
Syncros Ti handlebar
Roox Ti stem
XTR M900 shifter on Grafton perches
Grafton levers
Grafton SCs
Ti Flite
Grafton pedals
Cook Bros RSR cranks, XTR rings all Ti bolts
Syncros Ti 127mm BB
Bullseye jockeys
ODI Grips and assorted Ti fixings
Custom design FATLANTA graphics by GIL
~ 20lbs
Im forever grateful to Cog member Zonq for passing this onto me. See the bare frame pics here. Shame I could not afford it in my youth but it's a keeper now.
Thing 1. '94 Fat ti -Sold.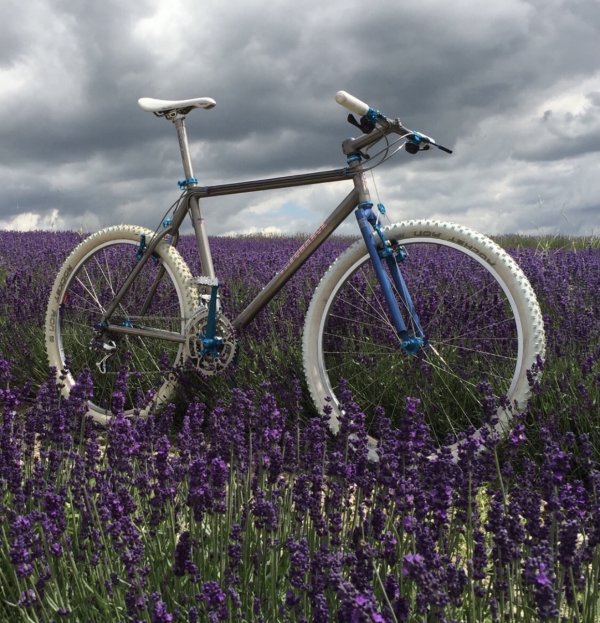 Last edited: